Cynthia Bazin welcomes you to SmartChic and provides an overview of services.

You need motivation

! You have big goals and dreams and are committed to making things happen but sometimes you are hard on yourself or

need

a kick start in the morning to get you moving in the right positive direction.

You need tools and resources

! You want to learn and grow personally and professionally and would love to have much of this information in one trusted place.

You want access to experts for valuable information but don't have a large budget

. You need to be very 'smart' this year budget-wise, but still want to continuously learn and grow personally and professionally.

You want support and to be able to ask for advice with someone you respect and trust

. You are seeking a place where you feel 100% supported with no judgment and be able to ask for advice in different areas of your life.

Quality Networking is important to you

. You want to surround yourself with high quality women where you can support and inspire one another personally and professionally.

You want access to a community from the comforts of home

. Due to your busy schedule, attending networking events is challenging for you. You would still like to be part of a network but would like the ease of accessing it online and doing it on your own time.

You know that now is the time to do something for yourself

. You are ready to invest in your life to achieve more success and happiness.
Join the SmartChic Inner Circle and Receive:
Laser-Focused Mentoring: Every month I will be doing at least one phone call for my Inner Circle SmartChics, where I will be answering YOUR hot topics/questions related to your professional and personal life that you submit to me during the month. Need smart advice? These calls are going to be really FULL of great, priceless advice! Wait until you experience these calls! I guarantee a full-hour+ of super smart advice.

Inspiration and Motivation:  5 days per week you will receive a positive, supercharged, inspiring email from me that will have my BEST 'smart' advice to apply to either your professional or personal life. For me, it's all about action, SmartChics! You will be able to take what I send you and apply it to your life.

Community and Support:  Be part of my private, Inner Circle SmartChic Facebook Group where you will receive inspiration and support from me as well as the other SmartChic Inner Circle Members. The best thing about this group is you can access this community 24 hours per day. Check in when you can and be inspired and supported EVERY day. Interacting with my SmartChics is #1 to me. I will be VERY active in the group! I will be there for YOU!

Quality Networking:  Exclusive invites to private Google Hangouts where you will have the opportunity to meet and network with other Inner Circle Members.

Savings:

 As an Inner Circle Member, you will receive discounts to my SmartChic online and live workshops, retreats and other amazing events!

Chances to Win Giveaways: You will be automatically entered into a monthly SmartChic raffle where very cool prizes will be given! Who doesn't like to win prizes? And I love giving gifts!

Education and Training

:  Have exclusive access to very special interviews I will be conducting with amazing 'smart' women who specialize in the areas of career, relationships, finance, and health and wellness. You will get the tools you need to get healthier, wealthier and wiser!

BONUS #1!
FREE 20-Minute Life Strategy Chat Session Consultation with Cynthia! I am passionate about getting you on track to great success and happiness.
BONUS #2!
Receive my mini eBook 103 Ways to Positively Transform Your Life Today!
BONUS #3!
As an Inner Circle Member you will receive a free subscription to Today's Innovative Woman Magazine. This is
the
must-have publication. This magazine is full of smart articles and inspiration!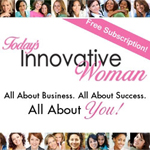 $299 per year? That's affordable!
($27 payment option available!!)
---
Why have I made this so affordable when others charge thousands of dollars for this type of network? I am passionate about empowering women, so I made this super affordable because I believe EVERY woman should be able to be part of a network of high quality women that has REAL value!
When you break it all down, for EVERYTHING you are going to be getting (and it's a TON of value), you will be spending LESS than $6 per week on yourself to grow personally and professionally.
Are you worth it?
Yes you are! So why wait? Don't hesitate! Commit to doing something awesome for yourself right now! 
How Cynthia Inspires Others!