Whether you are presenting in front of 25 people or 3000 people, live or online, you want to make a positive, lasting impression.  Being a powerful speaker takes some practice and there is definitely an art to it. I am sure you can recall some of the best and worst presentations you have seen.  I have seen many in my lifetime and now as a full-time speaker, I have come to learn the things that audiences really want in a motivational, powerful presentation. Here are 3 things that I believe are important to deliver in a powerful presentation.
The most powerful presentations leave a positive, lasting impression on the audience.
Click To Tweet
3 Things To Deliver In A Powerful Presentation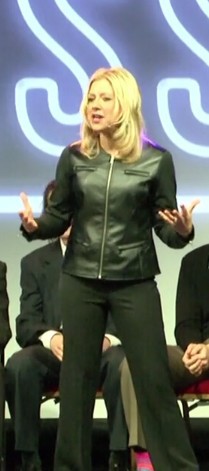 Clear Concise Message

–  You have an expertise that you are delivering to your audience. It is important for you to understand the makeup of who is in the audience and deliver a clear, concise message. Remember that delivering a great presentation has nothing to do with how long your presentation is, or the volume of information provided. It has to do with the quality of the material and how clearly you can get that message across.  Using a personal story in that message if done in the right way can be a super, powerful way to get your message across.

Laser Focused Points

– You all know I am all about being laser focused and getting others to be the same way. It is super important when doing a powerful presentation, to have a few focused points that the audience will take away with them and hopefully remember long after your talk.

Action Items To Apply to Their Life

– For powerful, impactful presentations, make sure there are one or more 'ah-ha' moments that the audience will get.  What is that thing or things that the audience members will want to take action on as a result of what you spoke about?
For powerful presentations, it's not how much you say but what you say that's important!
Click To Tweet
What are your favorite parts of a powerful presentation that you have seen before?  I would love to hear your experiences as a speaker yourself or as an attendee live or online. Or if you struggle when presenting material, definitely reach out to me here or privately and I can help.  I can't wait to hear from you! And be sure to come to see the absolute BEST, powerful speakers at 'Laser Focused'!

Cynthia helps you step into your personal and professional greatness with laser-focused strategies and really smart tips. She gives you kick-butt motivation and awesome strategies for you to take positive actions forward each day. Commit to being mentored by Cynthia today! www.smartchic.me 
Also, Cynthia would love to speak at your next conference or retreat! She delivers powerful, impactful presentations! Connect with her today!