As the president of SmartChic, Cynthia Bazin provides keynote motivational speaking and premier mentoring in the areas of Personal Development, Business Strategy and Branding. Cynthia's expertise is to get people laser focused on their personal and professional goals, providing them with kick-butt motivation and smart strategies so they can take action and achieve their goals and dreams.
Cynthia inspires men and women to stop living life in an ordinary way and be extraordinary! 
From an early age, Cynthia decided to live out of her comfort zone and really went for it in life. She grew up in a very small town in Massachusetts where there were not many opportunities. She always knew she wanted to do something big with her life and did not let anything get in her way of achieving extraordinary success and happiness.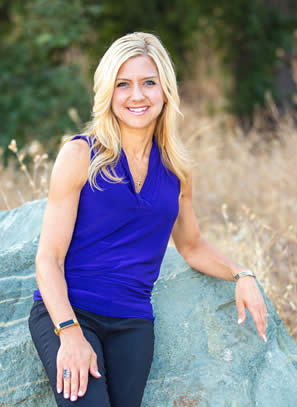 Cynthia achieved high level positions in the Connecticut prison system, became a private investigator in Las Vegas, Nevada, has run Security and Corporate Investigation units in the Hotel/Casino/Resort Industry and is a successful entrepreneur running her motivational speaking and mentoring company 'SmartChic'.  She has a Bachelor's Degree in Criminal Justice and Psychology and a Master's Degree in Counseling Psychology.  Cynthia is in 4 books, co-authoring 3 books and was honored to be 1 of 100 women from around the world interviewed for the now international best seller 'Common Threads – Empowerment'.  Cynthia has been recognized by SUCCESS Magazine and is on their website as a Blogger. She live streams at least twice per day on social media and has been designated VIP Status on Periscope with over 45 million hearts. She is also a regular contributor to Good Day Sacramento News.
Cynthia's 20+ years of high level leadership experience has taught her about behavior patterns in people and the reality that many people do not make the best decisions to live their best life.  Cynthia has a gift of being able to authentically relate to people, find the core reasons why they are not moving positively forward in life, then inspires them through her mentoring to positively transform them to live much happier, more successful lives.
SmartChic was started because Cynthia knew her passion and gift was to inspire men and women to know they can do absolutely anything they put their mind to in life. However, they must first take full responsibility for their life and stop worrying about what others want them to do. She teaches others to focus on what makes them happy in life and to do what they want to do!
Cynthia Inspires Others to Believe in Themselves By Teaching Confidence and Smart Decision-Making Skills!
Cynthia is passionate about mentoring men and women. She has had great mentors in her life that gave her confidence and the skills needed to make very smart decisions in her life. Cynthia believes wholeheartedly that when you are confident on the inside, everything else on the outside will fall much more nicely into place. And when you add smart decision making to being confident in yourself, you are creating your very best life.
Cynthia Is All About Taking Action and Getting Results
Cynthia inspires others to stop wasting time and really go for it in life.  She helps men and women get unstuck, motivated and moving way forward by taking action on their goals.  When people work with Cynthia, they feel a positive sense of urgency to step it up and not waste another second of time in their life. They are ready and committed to take charge and start really living life!
Cynthia Believes Every Person is a VIP and She Treats Them Extraordinarily! 
In all that Cynthia does, she commits to providing the highest level of service to men and women who are ready and committed to achieving their best life.
Cynthia can be reached through her contact form to inquire about her premier mentoring services and availability for speaking engagements.