If you are in business, being on social media is definitely one of those things you really must do.  The social media platforms I focus on are LinkedIn, Twitter, Facebook and Google+. There are various reasons I choose to connect with people on these platforms, which I might write about in a different post, but the important thing is to find the different social media platforms that really work for you and your business.
I've been passionate about social media for several years now. It's been absolutely amazing for me because I've been able to connect with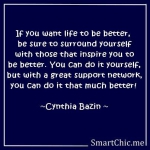 and do business with people from all over the world.  The opportunities for business owners are unbelievable right now because of the potential reach of their brand on social media.  But there are certain things you need to do on social media. You can't just 'do' social media, you need to do it well.
Do I consider myself an expert in social media? I would say that I know what has worked for me personally and for my business. And there has been one thing…. yes '1' thing that has taken my social media to the next level and has helped me build truly authentic connections.
So what is my #1 tip to making an authentic connection on social media?
CONNECTING LIVE!
Yep. That's it. It's a pretty simple concept, but as business owners who are for hours on the computer, we must remind ourselves to get out from behind the computer and start really connecting with people.  So how should you specifically do that?
Take a look at your rockstar people and put together a list of them. All of your best supporters. The really high quality people.
Then after you develop your list, I want you to reach out and let them know how much you appreciate them.
During that reach out, I want you to either schedule a coffee meet-up or schedule a Skype or Google Hangout call with them.
During that conversation with them, let them know how much you appreciate them and offer support to them!
Then of course do great follow-up and be sure to touch base and reconnect often!
So tell me, have you been good about connecting live with your rockstar connections?  What is your plan moving ahead? I'd love to hear from you. Let's make some awesome authentic connections this week!