It Is Your Time. Let's Do This!
Regan Black
Cynthia Bazin
You know you want to write a book. You've searched and researched advice and tools. You even have a notebook full of ideas and still, your book is more dream than reality.
It's time to stop spinning your wheels and get your book written!
Let us help you. With more than 35 years of combined experience in our fields, we know how to deliver the inspiration, focus, and strategies that will get your ideas out of your head and onto the page.
• Do you need a kick in the duff to stay motivated and accountable?
• Do you have concerns about your topic, focus, or structure?
• Does the idea of working together in a small group setting with other authors writing their books appeal to you?
"I had the great pleasure of working with Cynthia Bazin and Regan Black. With Cynthia's amazing motivating attitude and Regan's wonderful and helpful writing tips I felt driven and equipped to tackle the writing project. If you are looking to get your writing project finally drafted this is the way to go! The group will help you to stay focused, responsible and well informed as to which steps to take next."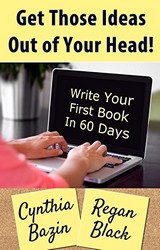 This unique, laser-focused mastermind group will provide the insight and resources you need most:
90 Days of Group Coaching and Masterminding with both a premier mentor in strategy and mindset and a USA Today bestselling author.

An encouraging and positive environment.

A FREE paperback edition of Get Those Ideas Out Of Your Head – Write Your Book In 60 Days by Cynthia Bazin and Regan Black.

Group accountability and the support of those sharing your singular goal to get the book written.

A minimum of 6 hours of live group coaching calls – all calls will be recorded and available to participants.

A private Facebook group for daily interaction, ongoing motivation, and fun challenges to keep you engaged and excited through the process.

Tips and advice to break down the myths and roadblocks of writing.

Guidance on choosing your topic, title, formatting, cover research, launch plan and more.

A proven system of success!
"Cynthia Bazin is an amazing motivator! I received timely and supportive feedback and encouragement along the way. Definitely recommend working with Cynthia if you need encouragement and even a kick in the butt when you're in a tough spot. Regan Black provided fantastic tips for writing, including what to do when you get writer's block or think your writing is not worthy. She's been there, and was helpful in holding my hand and helping me out of that darkness."
Investing on this journey to writing your book can have tremendous long-term benefits:
Your book establishes you as an authority on your topic, allowing you to up-level your business.

Getting your book written can open new doors and the opportunity for building influence and income as a speaker or presenter.

Your book can expand your reach, increasing your ability to connect with those who need your expertise outside of your immediate area.
Group starts September 5th.

Your total investment of $750 covers a full 90 Days of kick-butt motivation, the best book writing strategies, group mentoring with experts Regan Black and Cynthia Bazin and a mastermind with other participants who are writing their books!
You'll have immediate access to the program overview and the get-started worksheets upon full payment.

THIS is the accountability program to finally get that book out of your head!
Reach out to Cynthia and Regan by clicking the button below and we'll be happy to address your questions.
THIS is the accountability program to finally get that book out of your head!